24.11.2010

Test builds of LZ models 20t Russian wagon and 60t Russian wagon finished, more pictures added. Kits will be available at LZmodels.com in a few days. Also a couple of new sets added in Spare box - lights, brakes and drive wheels
24.11.2010 Stavba prototypů ruských 20t and 60t vagónů dokončena, přidal jsem další fotky. Modely lze zakoupit na LZmodels.com Několik nových setů pro BR86 lokomotivu přibylo v sekci Spare box - světla, brzdy a spřažená kola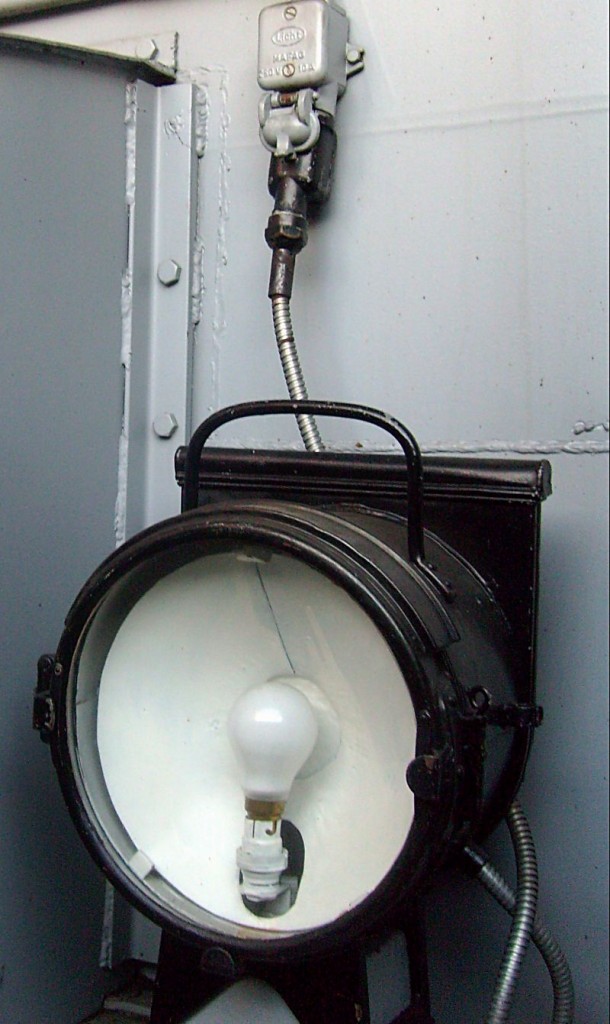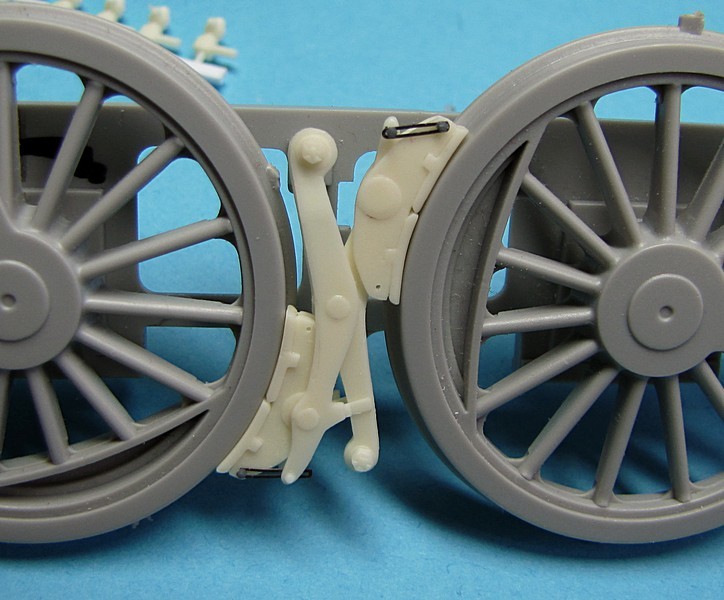 .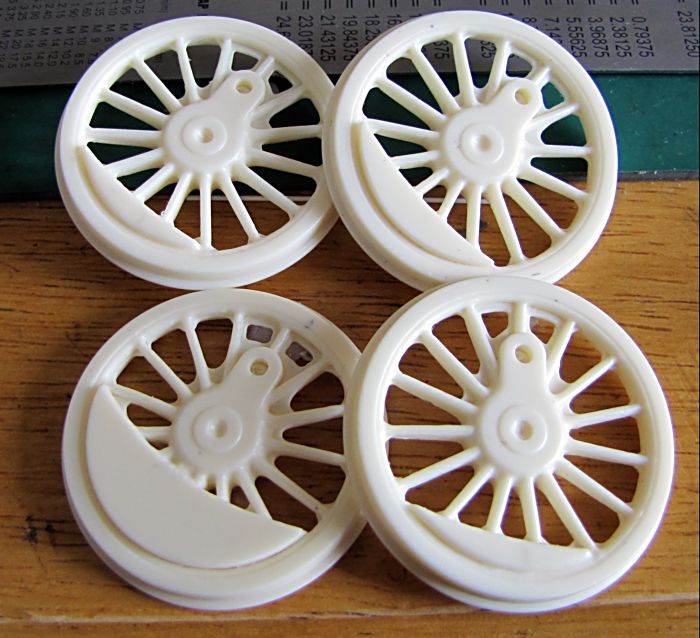 16.10.2010 Back from holidays and working hard...I will get back to my BR86 build soon, today I added sections 1/35 Russian 20t wagon and 1/35 Russian 60t wagon where WIP on both prototypes pictures are shown. More about these kits soon...
16.10.2010 Zpátky z dovolené a zpět do díla....v nejbližších dnech se vrátím k BR86, prozatím jsem zprovoznil další dvě sekce 1/35 Russian 20t wagon a 1/35 Russian 60t wagon kde lze najít fotky ze stavby prototypů obou modelů, více se objeví během několika týdnů.
.
2.10.2010 Going on my a week holidays tomorrow, mainly to visit some rail museums in Germany and get pictures for upcoming build. When I am back, some big updates will be added to the website.
2.10.2010 Zítra jedu na týdenní dovolenou, především navštívit několik muzeí v Německu a nafotit hromadu fotek pro další stavby. Až se vrátím, objeví se na stránkách několik zajímavých aktualizací
.
5.9.2010 After very busy summer at work, I am now able to get back to my hobby and keep my website updated once again. I will return to my BR86 build soon, and in no time I will have also some interesting news for 1/35 railway modellers, so keep tuned. At the end, I would thank you to all, who keep visiting my website, and who got BR86 parts from my spare box and sent me great pictures of their upgraded builds.
5.9.2010 Na konci velmi pracovně vytíženého léta se budu moct brzo zase vrátit k modelařině a přinést nějaké pokroky, jednak ve stavbě své BR86 a jednak v oblasti dalších modelů pro všechny příznivce 1/35 železnice. Taky bych chtěl poděkovat všem, kdo navštěvují mé stránky i těm, kdo měli zájem o nějaké odlitky z mého spare boxu a poslali mi později fotky jejich vylepšené lokomotivy.
.
1.6.2010 More items added in the Spare box, other detailing and correcting sets for Trumpeter BR86 loco, and also 1/35 water crane.
1.6.2010 Další přebytky se objevily v sekci Spare box, nové opravné sety pro BR86 lokotku od Trumpety a taky 1/35 vodní pumpa
.
30.5.2010 I have added another section in Reference pictures. Steam is alive section will contain various pictures taken on steam loco shows and so on. They are rather to please your eye than to be used for reference purpose. First collection from show in Luzna u Rakovnika 16.5.2010, Czech Republic. Thanks to Josef Fiala, who allowed me to use them here and share with other steam loco fans, and to Standa Hynek, who sent them to me.
30.5.2010 Přidal jsem sekci Steam is alive v Reference pictures, kde se objeví fotky z různých akcí s parními lokomotivami. Než pro referenční účely, měla by tahle sekce sloužit spíš k potěšení oka milovníka parní éry na železnici. První obrázky mi poslal Standa Hynek a všechno nafotil Josef Fiala 16.5.2010 v Lužné u Rakovníka
.
32.5.2010 I have experienced lately that some guys did not get my email responses. Using my Czech or Europian email addresses, sometimes can happen that the emails are gone in SPAM box. So please keep them checking if you have contacted me, as I reply all emails received.
14.4.2010 First items added in the Spare box, more will show up soon
14.4.2010 První přebytky se objevily v sekci Spare box, další přidám co nejdřív
.
9.4.2010 I have been contacted recently by many modellers, asking for some of my resin castings to upgrade their own builds. Because I always do a few more castings per mould than I need at the moment, I can offer these pieces to anyone interested. Next week some of them will be added in Spare box. Later on this year a company will be started, bringing large range of accurate and highly detailed resin sets and full kits for railway modelers, but also some others.
9.4.2010 V poslední době jsem často kontaktován modeláři, kteří by rádi použili mé odlitky pro doplnění svých modelů. Protože si odlévám vždy nějaké kousky do rezervy, mohu je v případě zájmu nabídnout a některé z nich budou k mání v sekci Spare box příští týden. Později tento rok začne fungovat firma s nabídkou železničních ale i jiných detailně zpracovaných resinových stavebnic.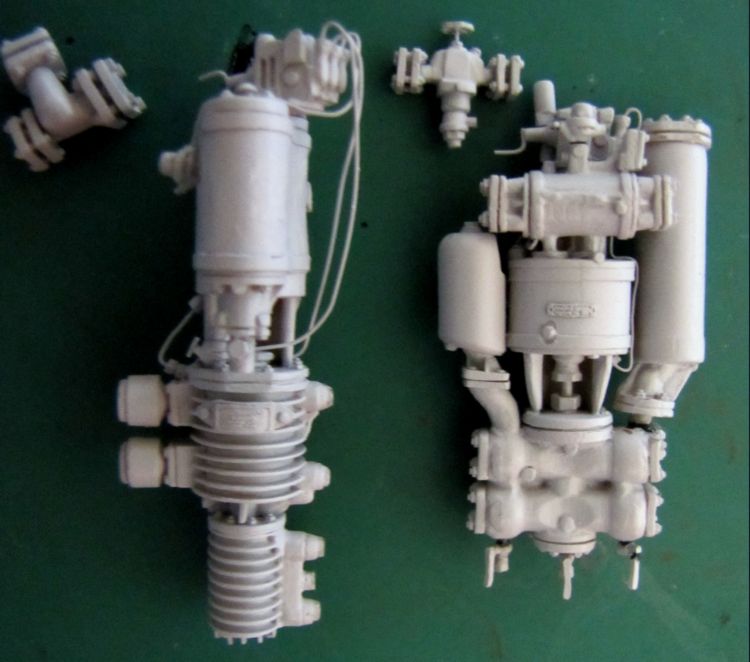 2.4.2010 I spent last weeks on another project, more about in 1/35 Trumpeter BR 86 Dampflokomotive section. Now I am back on my build with some new exciting castings and so on. The most of parts for Tolkien-Knorr compressor and water pump glued together and ready for paint.
2.4.2010 Poslední týdny jsem strávil na jiném projektu, víc v 1/35 Trumpeter BR 86 Dampflokomotive sekci. Už jsem zpátky u své lokotky s novými odlitky a dalším postupem. Sestavil jsem většinu dílů Tolkien-Knorr kompresoru a napájecí pumpy, stříkl surfem a brzy přijde barva.
16.3.2010 A master for Tolkien-Knorr compressor almost finished, little cleaning and another surfacer coat needed before making the moulds.
16.3.2010 Master pro Tolkien-Knorr kompresor je skoro hotový, jen ještě přečistit a stříknout znovu surfacerem, než se pustím do výroby forem.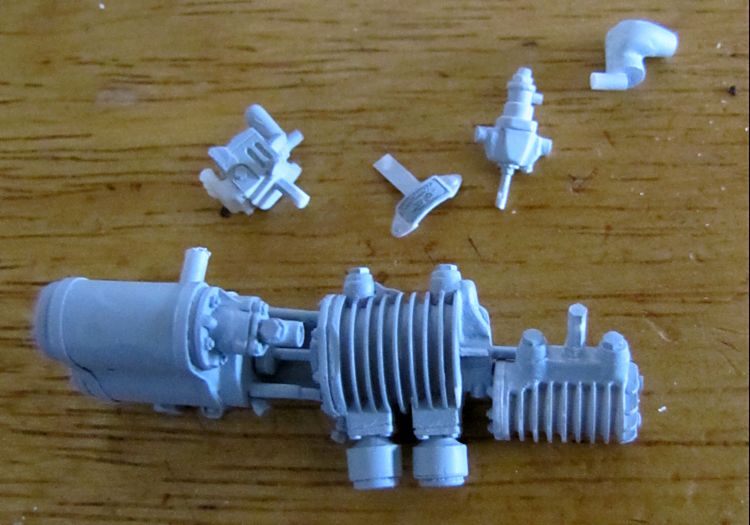 7.3.2010 After short break I am back in building, focused mainly on my BR 86 loco now. I got ready more moulds to finish drive wheels, and the Tolkien-Knorr compressor as well. I have also made final moulds for electric equipment, couplings and water feeding pump. Then I will do the rest to improve my loco, all the parts on the top of the boiler, which means right sand and safety valves, armatures and regulators mounted on the steam dome, whistle etc.
7.3.2010 Po krátké pauze se vracím zpět ke stavbě lokotky, nachystal jsem si formičky pro obruče kol a zbytek dílů Tolkien-Knorr komporesoru, dokončil jsem formy na elektrické vybavení lokomotivy, spřáhla a napájecí pumpu. Nakonec se zaměřím na armatury umístěné na kotli, písečníky atd.
.
11.2.2010 Tolkien-Knorr "Speisewasserkolbenpumpe", which is a water feeding pump, finished today. The build was pretty tricky, however this will be nice replacement for the piece provided in Trumpeter BR 86 kit, and resin castings obtained soon also handy for any other loco build in the future.
11.2.2010 Dokončil jsem dnes Tolkien-Knorr napájecí pumpu, pěkně komplikovanou věcičku, nicméně to bude důstojná náhrada pro pumpu dodávanou ve stavebnici BR 86 Trumpety a později získané odlitky se hodí pro některou z dalších lokomotiv.
.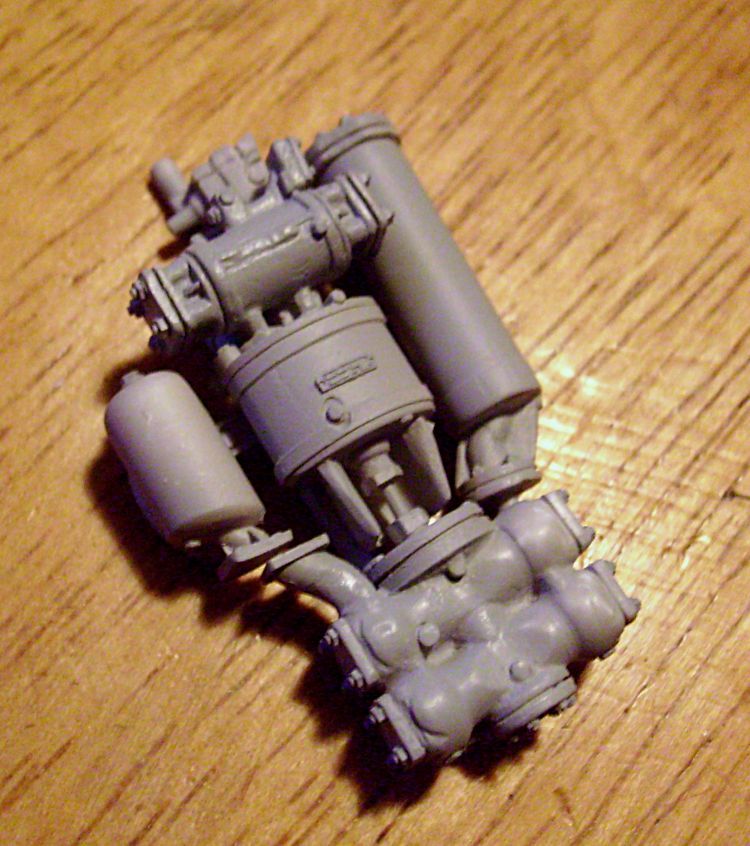 21.1.2010 I am going to apply some changes here at my website in near future. The forum will be replaced by new section, which I will launch in two months time. Any message can be still left in messages section or sent to the address shown above. Some great news and items will be brought out for 1/35 railway modellers, and for the armor ones as well. More about it when things are set and clear
21.1.2010 V nejbližší době proběhne několik změn na těchto stránkách, fórum bude nahrazeno novou sekcí, která bude zprovozněna během dvou měsíců. Jakékoli připomínky mohou být napsány v sekci messages nebo zasláy na emailovou adresu uvedenou výše. Pro příznivce 1/35 železnice se objeví nějaké zajímavosti, ale právě tak i pro modeláře techniky. Více o tom, jakmile budu mít přesné informace
.
12.1.2010 More references pictures for BR86 286 added in Reference pictures section.
12.1.2010 Přidal jsem několik dalších fotek BR86 v sekci Reference pictures .
.
1.1.2010 Some kits for sale are still available in section Sale now. Too busy with my railway projects, I wont get chance to build any of these kits I had bought before. Thats why I am gonna sell them. Their pictures can be seen here Armor kits or here Planes and here Helicopters. All the kits are in perfect condition, bags sealed, PE available for many of them. More about in the new section.
1.1.2010 Nějaké stavebnice na prodej jsou stále ještě k dispozici v sekci Sale . Protože jsem velmi zaneprázdněn svými železničními projekty, nebudu mít zřejmě příležitost postavit nic z ostatních dříve nakoupených modelů. Proto je dávám k prodeji. Obrázky jsou k náhledu zde pro techniku Armor kits tady pro letadla Planes a zde pro helikoptéry Helicopters. Všechny stavebnice v perfektním stavu, s neotevřenými sáčky, k mnoha jsou k dispozici také lepty. V případě zájmu upřednostním prodej stavebnic dohromady s příslušnými lepty, kde jsou uvedeny. Více v nové sekci.